Last Bank Holiday weekend the Create50 and LondonSWF along with key writers from The Impact50, locked themselves away and read the top 300 scripts submitted to the process.
We all learned a huge amount, but most excitedly, we discovered we have the potential now to make a truly remarkable film.
We will announce the winners on the blog at 11am on the 17th May.
So to recap... At this point, every script we were now considering had been read by four people.
And last weekend we needed to find our winners.
We started at the highest rated scripts and worked down until we had around 70 scripts from the top 250.
We then read any scripts that the community felt strongly about (I asked a while back and around 40 scripts were put forward). Dee Chilton also had an epic spreadsheet that cross referenced her feelings along with other readers and also catalogued the general community feelings.
The upshot is that around 300 scripts ended up being read by 14 or so different people in the process.
Something powerful, emotive and profoundly moving emerged from this process.
I always knew we could create something wonderful with The Impact 50, but now I am certain we will produce a groundbreaking and landmark film.
So ahead of the announcement on the 17th…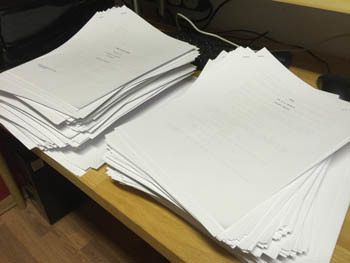 The List Is Not Yet Complete (but will be by the 17th)
I have decided to spend a little longer mulling over some of the more contested choices which means the announcement wont be today. I have chosen May 17th which will gives us enough time to be sure.
There will be MORE than 50 scripts for a number of reasons.
First, there were several writers in the room who had submitted scripts themselves. We included them in the process as they brought something extra to this final stage. And let me be clear, the idea that we would be swayed as someone is in the room is ludicrous. In fact the opposite was true, we found ourselves being extra hard on these scripts. Also, most of he time we didn't even notice who had written a script – by the time you have read 30 scripts, you start to skip things like title and writers names as it just slows things down – we were reading to a tight schedule. Anyway, I made a choice. If one of these writers scripts was selected, we would expand the selection to 51. If two were selected, we would expand the winners to 52 and so on. This way no-one can complain that they 'lost a space' to someone who was in the room. We will deliver 50 scripts from writers who were not in the room. And a few more too. And please, if you want to cry foul, just send me an email. Don't drag the whole process down with complaining comments. Mail me at Chris@LondonSWF.com.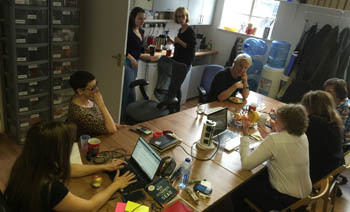 There will be more than 50 scripts for a number of reasons (part 2).
Some scripts have REAL challenges in terms of production. Instead of eliminating them as they are likely to either remain unproduced OR may be executed in a way that does not meet the standards of the overall film, we have chosen to add them to the pile also. We will have 50 highly produceable scripts, and a few that will be a massive challenge. If a filmmaker pulls it off, then GREAT!
We found Gems
We continually ran into scripts that we felt should not be in the final 50 but that had something in them, either a core idea or a moment that was terrific and resonant. So we are considering adding a list of short moments / scenes, or as we call them, 'Gems' for filmmakers to explore. We suggest these will result in single shots OR ten or fifteen second sequences. I am still unsure how we will leverage these moments but I feel certain we should use these great ideas somehow. Watch this space.
We were mindful of the extra bit we want for the final film
In the rules we spoke about a scene or shot from the characters in a story in their final seconds as the blast wave approaches (these will need writing of course). This may well form a montage at the end of the film. These moments started to feel extremely powerful once we started to see them as characters we know from the stories, shots playing out one after another. It's going to gut punch the audience in a good way.
My personal filter was 'could I see this happening?'
There were many amazingly well written scripts that just didn't feel true to me. Sure some people would deal with loss and bereavement in strange ways, but some scripts went beyond that and some great stories simply just didn't feel like the writer had fully imagined the enormity of the end of everything as we know it. So some, not all, we let go.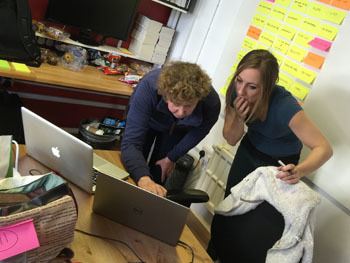 We need scripts that filmmakers WANT to make
Over and over I felt myself, as did others in the room, drawn toward scripts that delivered emotional punch. We have also counterpointed these selections with comedy (often dark comedy), optimistic drama, and occasional 'context' scripts that helped remind us of specifics of the story world of The Impact 50. In short, we started the process by 'judging scripts', but we ended up 'building a movie'.
Some need a LOT of work
Some scripts were selected on the basis of a moment, a scene or a core Idea - but the script needs a lot of work or a re-imagining so that it better fits the overall arc of the film. I hope this does not haunt me as on 50 Kisses we had a couple of writers who refused any notes or guidance for us. This is another reason why I have chosen to select more than 50 scripts.
Wildcards
Some scripts will be featured by us and highly recommended to filmmakers as a possible wildcard script. This means it can be produced and submitted BUT ONLY after the filmmaking team has filmed and submitted a project form the final 50(ish). All scripts submitted are possible wildcards too, but we want to platform some that didnt quite make the final 50sih as we feel they are really terrific.
Judging creative work is never easy and feels kind of unfair too as there is so much good stuff left behind.
Every person in the room had to let go of at least one script they felt strongly about. Some had to let go of many more. It's the nature of the beast.
Finally, can we hear it for the Create50 team?
Where else do scripts in a competition get 14 reads to ensure we get it right?
And these guys gave up their entire bank holiday weekend for the love of it, to help platform our collective work and community. So thank you Lucy Hay, Elinor Perry, Judy Goldberg, Vanessa Bailey, Dee Chilton, Emma Heath, Phil Peel and the simply wonderful Karol Griffiths who was our 100% independent adjudicator.
Chris Jones
www.Create50.com